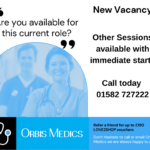 Health Care Assistant Opportunity – London E13
ORBIS MEDICS is seeking professional, reliable, and skilled Health Care Assistants ready to offer continuity in patient care.
Job Details:
Site: GP Surgery (Must have worked in a GP Surgery before)
System: Emis Web
Start Date: Monday, 4th December 2023
Duration: 3 weeks (likely to extend thereafter for 3 months)
Working Days: Monday, Tuesday, Thursday, and Friday
Surgery Hours: 8:00 AM – 6:30 PM (Flexible)
Key Responsibilities:
Perform Health Care Assistant duties in a GP Surgery setting.
Assist with various healthcare tasks, ensuring the well-being of patients.
Maintain a high standard of patient care and professionalism.
Why Choose This Role:
Join a dedicated team providing continuity in patient care.
Contribute to the smooth functioning of a GP Surgery.
Flexible hours to accommodate work-life balance.
Session: HCA Daily Duties
[Include specific duties relevant to the role.]
If you're a skilled Health Care Assistant looking for an opportunity to make a difference in patient care, apply today! Join ORBIS MEDICS and become a vital part of delivering quality healthcare.
To apply or learn more about this position, please contact ORBIS MEDICS at 01582 727 222 or email us at hello@orbismedics.com. Your journey to a fulfilling healthcare career starts here with ORBIS MEDICS.